---
       
OR CALL 231-486-8055
---
WHAT DOES IT COST?
Driver for 1-6 People – $55/hr* 

Driver for 7-15 People – $95/hr*

Extra time charged in 15 minute increments
NOTE: Starting locations within 10 miles of downtown Traverse City: Charged from the time the driver arrives at your location until you are dropped off. Starting locations more than 10 miles from downtown TC: Charged from the time our driver leaves TC until the time they arrive back to TC.
*Pricing does not include your drivers gratuity
WHY USE A DRIVER?
Great for any alcohol related tour…wine, beer, distillery, ciders or craft cocktails

It's a stress free-piece of mind way to enjoy the day

Everyone in your group can enjoy the tastes of our fine wine, brewery & distillery trails

Way cheaper than a DUI

Cheaper to hire a wine tour driver in Traverse City than to go on a group tour

It's structured to your chosen itinerary (which you can change on the fly) …so no driver saying "it's time to go"

Your driver will be a local who knows the area intimately and thrives on providing you a tailored, personal experience that exceeds your expectations as a group…the secret wow factor!
All drivers have had a background and driver license check performed

No tasting fees are included in the price

In the Unlikely Event There is an Accident During Your Tour: If your driver has an accident during your tour which requires work to be done on the car, this claim will need to be filed with your insurance as Michigan is a no-fault state and we have no other way to do this. We will cover up to a $500 co-pay to get the vehicle fixed.

Our drivers have the right to end a drive at any time due to poor, foul, offensive or illegal behavior. At this point you will be charged the full amount of the drive.
 
OR CALL 231-486-8055
---
GIRLS TRIP WINE TASTING…MOTHER DAUGHTER VINEYARD DAY?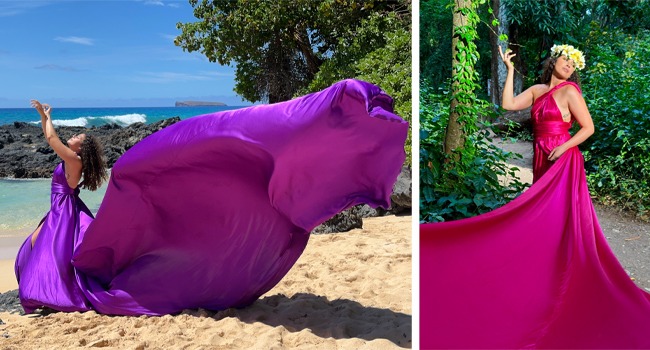 You must consider adding a flying dress photo shoot to your wine tasting day! You will look and feel stunning in the vines.
INCLUDES:
Dress Rental

Dress Flying Assistant

All untouched photos within 14-days. Approx 100
$249 Per Person 
* Available for booking in your checkout process