HAPPYTOWN RICKSHAW TOURS TRAVERSE CITY PEDICABS RICKSHAW TOURS TRAVERSE CITY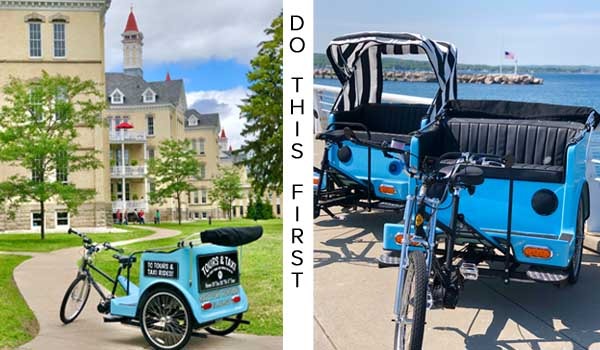 Know why you need to do the Hi-5 Tour first? It's simple…our guests  who don't do it first always say "I wish we had done this first"… and you just can't argue legit stats!
As our guests say "There is no better way to see & learn TC than in a rickshaw"
We offer multiple types of popular tours below as well as private tours customized just for your group.
Comfortably seats 2 people per rickshaw (a small 3rd person works sometimes also).
ALSO….check out our unique wedding experiences on the rickshaws!
---
HI-5 EXPERIENCE – 1 HR – $129 PER CAB – SEATS 2 ADULTS
On this tour we highlight 5 beautiful areas of Traverse City including:
Downtown Front Street
The Warehouse District
The GT Commons area (old asylum)
The Open Space & Clinch Park/Marina area
Old Towne
As you ride, your driver will share info about the areas attractions, neighborhoods, history, architecture, food & beverage scene (very HOT in TC) and anything else you want to know. This is the perfect way to get to know the town and then figure out what else you want to do.
NOTE: Pricing does not include your guide/drivers gratuity. Although a gratuity is not mandatory, 20% is the industry average for a job well done ツ
---
DOIN IT FOR THE GRAM – 1 HR – $129 PER CAB – SEATS 2 ADULTS
On this tour we will show you around TC stopping for a variety of photo opportunities that will make the Instagram world a bit jealous. From murals, to nature to history you'll leave with pictures that give people Insta-envy!
---
COMING SOON!
PINEAPPLE EXPRESS: CANNABIS TOUR – 30 MINS
Hop on board for an express tour through downtown highlighting current cannabis locations, places to eat when you have the munchies and great local watering holes.
Special gifts included at the end of your tour are a Cannabis 101 Guide and a 2-Pack 420 gift.
---
TASTE OF TC FOODIE EXPERIENCES – 1.5 HRS – $289 PER CAB – SEATS 2 ADULTS
Voted the best way to see TC, hop on our board TC's boujee-est rickshaws and taste your way through some of our most
awarded and talked about foodie locations. Zip through town in comfort while your knowledgeable guide highlights the best tastes from Slabtown to downtown!
SWEET, SAVORY OR A BIT OF BOTH?
Sweet Tasting Tour = Cherry Republic, Grand Traverse Pie Co, Slabtown Cookies and Kilwin's
Savory Tour Tasting = Fustini's, Mama Lu's, Cheese Lady and Slabtown Burgers
Sweet & Savory Tasting = Cheese Lady, Grand Traverse Pie Co, Kilwin's and Slabtown Burgers 
Each stop includes a tasting, a takeaway or both. You won't be disappointed!
---
WINE, BREW & CRAFT COCKTAIL EXPERIENCE – $129HR – SEATS 2 ADULTS
Join us as we tour around to Traverse City's most sought after watering holes. Wine, craft beer, cocktails & whiskey, no matter what your preference you will surely find something that fits your mood in our list of places you can visit. Sit back, relax and enjoy the drinks, great atmospheres and unrivaled scenery.
---
PRIVATE RICKSHAW EXPERIENCE
We can help you create your perfect itinerary or, if you have your day planned out, you name the place and time and provide us with your itinerary for the day. Cab and driver will be available whenever you need it during the timeframe that you booked.
If you have never ridden in a pedicab, you are in for a really fun treat, if you have ridden in one before…we completely understand why you are back 😉
---
GOOD TO NOTE
Each cab seats 2 adults comfortably, may be able to fit 2 adults and a child
No tasting fees are included in the pricing unless noted
We currently have 2 pedicabs that can accommodate 2 adults each – Call 231-486-8055 to reserve both at the same time